A wedding reception is indeed a gathering or reunion for family and friends. It's a joyous occasion where loved ones come together to celebrate the union of the couple. It also provides an opportunity for people from different parts of the couple's lives to come together, sometimes meeting for the first time, and share in the happiness of the newlyweds. Hence, keeping your guests entertained and involved at the reception will be truly special and meaningful. This gathering often includes not only the traditional exchange of vows, but also various festivities and activities designed to create lasting memories and strengthen the bonds between family members and friends. Whether it's through dancing, toasting, games, or heartfelt conversations at the reception, the sense of reunion and the coming together of loved ones make a wedding reception a truly special and meaningful part of the wedding day. It's a time when relationships are celebrated and new memories are created, making it a cherished event in the lives of both the couple and their guests. In this blog, we'll explore a range of both traditional and unique activities that can make your wedding reception memorable for everyone involved.
Let's start with some of the common wedding reception entertainment activities.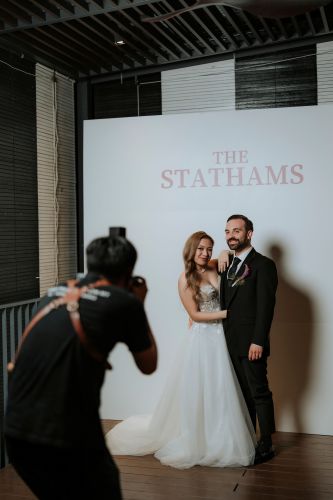 1. Photo Booth
Consider having a photo booth with props, backdrops, and a camera or instant printer. This will not only provide entertainment but also create lasting memories for your guests whereas the instant prints serve as tangible keepsakes for guests, helping them remember the wedding for years to come. Guests can take these photos home as mementos, which can be especially meaningful if they had a great time at the wedding. Some couples use instant print photos as an alternative to a traditional guest book. Guests can leave a copy of their photo along with a heartfelt message for the newlyweds. This creates a memorable keepsake filled with photos and well wishes from loved ones.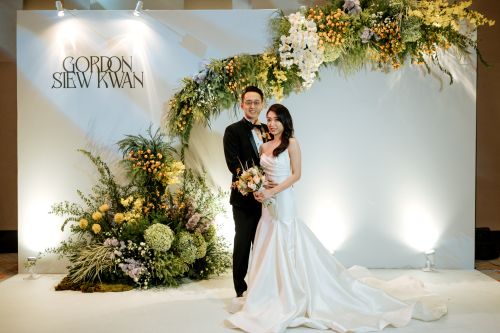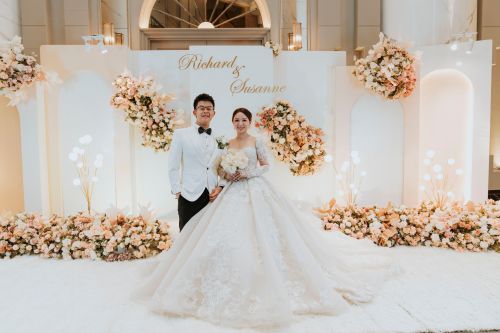 2. 180 Slider and 360 Video Booth
Traditional photography and videography capture moments from specific angles, but a 180 slider & 360-degree video booth can capture the entire scene, allowing the couple and their guests to relive the event from various perspectives. Both 180 slider and 360-degree videos are shareable on social media platforms, allowing friends and family who couldn't attend the wedding to experience it virtually. It's a way to include a wider audience in the celebration. The interactive memories of videos also provide an interactive way to relive the wedding day. Guests and the couple can revisit moments by panning and zooming in to the video, making it feel like they are back at the event.
360 video reference : https://www.instagram.com/reel/Ctf8E42pQ5M/?utm_source=ig_web_copy_link&igshid=MzRlODBiNWFlZA==
180 video reference :
https://www.instagram.com/reel/CqXoH4bpe–/?utm_source=ig_web_copy_link&igshid=MzRlODBiNWFlZA==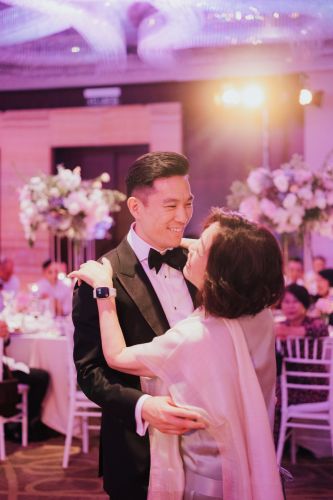 3. Dance Performance
A surprise dance performed by either the bride or groom at the wedding reception is a delightful and unexpected twist that can add an element of excitement and emotion to the celebration. A first dance with the parents (Bride and Father; Groom and Mother) is a touched and heartfelt gesture that showcases the individual's love and commitment to their partner or parents and often serves as a memorable highlight of the reception. Whether it's a group of dancers, a sentimental solo performance, or a surprise duet, this act of love and creativity can leave guests moved, entertained, and touched by the couple's dedication to making their wedding day truly special. It's also an excellent way for the bride or groom to express their unique personalities and create lasting memories that will be cherished by all who witness it.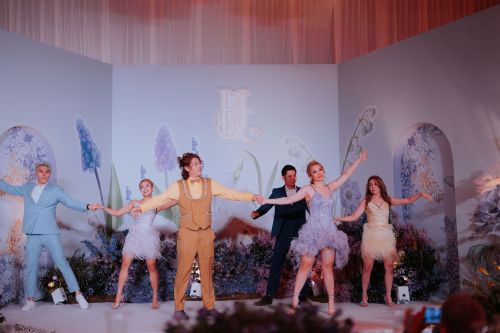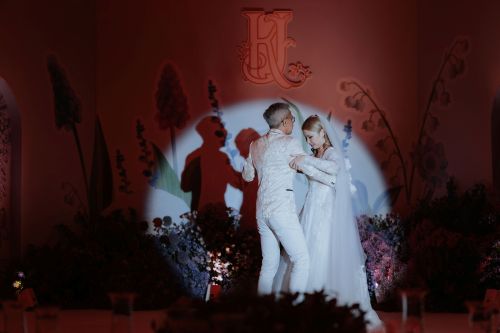 4. Music Entertainment
When it comes to crafting the perfect ambiance for your wedding, few choices are as enchanting and emotionally resonant as live music. Elevating your special day to new heights, you have the option to select between the energetic vibes of a live band or the timeless elegance of a string quartet. Imagine the joyous atmosphere as a live band fills the reception hall with their infectious rhythms and harmonious vocals. Whether they're belting out chart-topping hits or delivering soulful renditions of your favorite love songs, their presence on stage will have everyone, from your youngest guests to the older generations, on their feet and dancing the night away.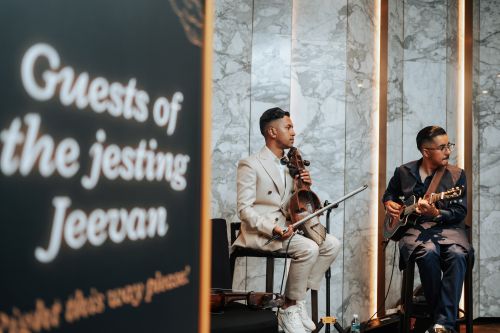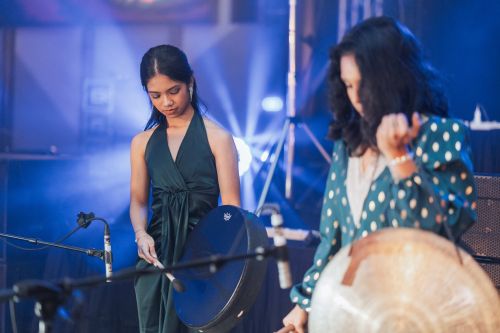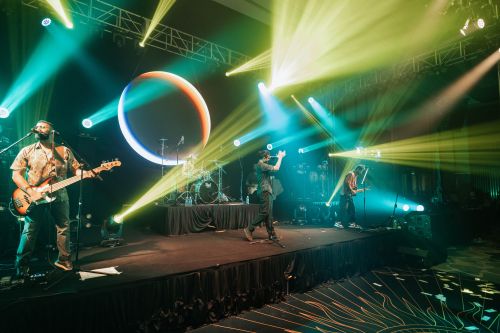 On the other hand, a string quartet offers a different kind of magic, transporting your wedding to a realm of classical sophistication. Picture the hushed reverence as a quartet of talented musicians delicately plucks at their strings, serenading you and your beloved during the ceremony. Their evocative melodies provide a backdrop of refinement during your cocktail hour, elevating conversations to a higher plane of elegance. This timeless choice will add a touch of nostalgia and a sense of timeless romance to your celebration.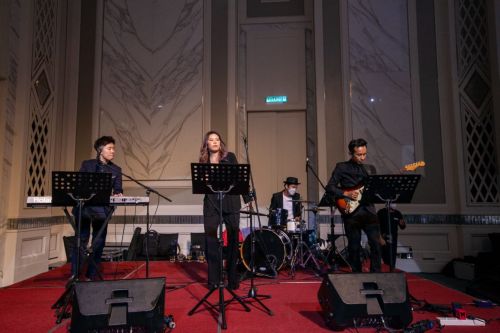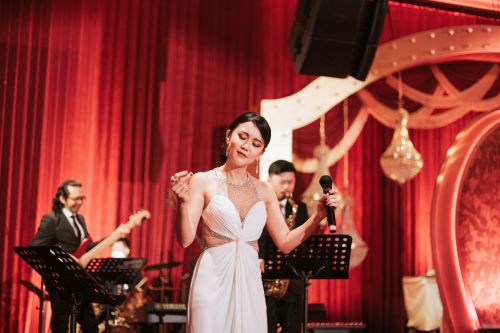 5. Bride and Groom Game
The shoe game is a great way to break the ice, create memorable moments, and add some humor to your wedding reception. The shoe game also adds an element of entertainment and laughter to the reception, keeping guests engaged and amused. Reason being, this game involves the entire audience, as guests can cheer for their favorite responses and actively participate in the celebration. It's a reflection of the couple's unique personalities and can be tailored to suit their preferences and the overall vibe of the event.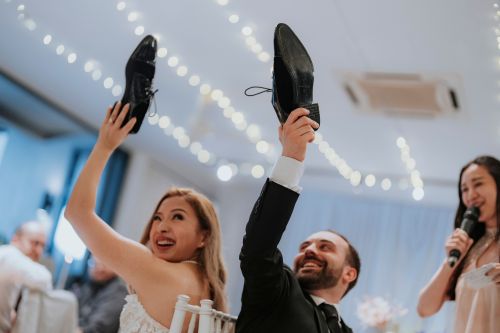 Another popular and heartwarming game for the bride and groom at weddings is the or "How Well Do You Know Each Other?" game. In this delightful activity, the groom is blindfolded, and all the bridesmaids sit silently in a row with the bride. Someone guides the groom from elbow-to-elbow to see if he can properly identify the elbow of his bride. It's a delightful and often humorous game that allows the couple to showcase their knowledge of each other while revealing amusing anecdotes or endearing idiosyncrasies. The audience gets to witness the couple's chemistry and mutual understanding, making it a heartwarming and entertaining addition to the celebration. Plus, it offers a great opportunity for guests to learn more about the couple's journey together.
With the rise of social media platforms like Pinterest, Instagram, and TikTok, couples have access to a vast array of wedding inspiration and ideas. Seeing others' creative weddings and wanting to make their own mark in the wedding world motivates couples to think outside the box. The mixture of reflecting the couple's personalities, interests, and love story & the unique ideas do allow them to create a wedding reception that feels truly personalized and meaningful. Of course, Unique wedding reception ideas often have a "wow" factor that can leave a strong impression on guests. It can be an opportunity to surprise and delight attendees with unexpected and creative elements. The trendy couples simply prefer to break away from traditional wedding norms and create a more relaxed and unconventional atmosphere. This can be a way to challenge the status quo and celebrate their love in a way that feels authentic to them.
Let's have a look at the unique wedding reception entertainment ideas.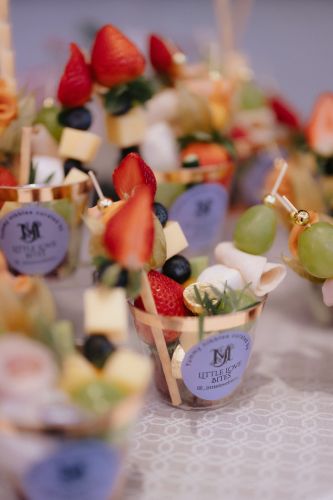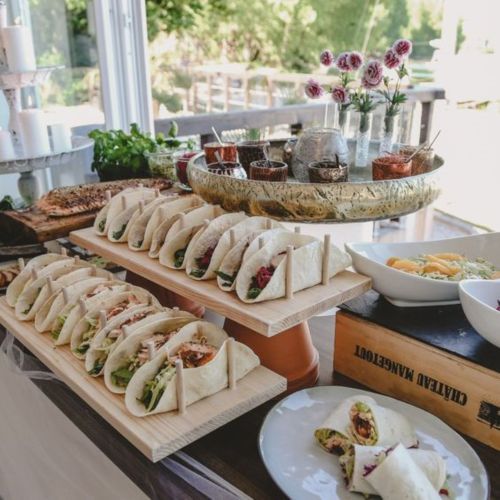 1. Food and Drink Stations
Live food stations during your wedding cocktail hour not only entertain your guests but also elevate the overall dining experience. Offer a variety of live food stations to cater to different tastes and dietary preferences. Some popular options are carving stations, boba tea stations, dessert bar stations, cheese platters, a sushi bar, a lok lok truck, a taco truck, and apam balik. This will provide a unique opportunity for your loved ones to interact, savor delicious food, and enjoy a memorable start to your wedding celebration. These live food stations add an exciting element to your celebration, giving guests the opportunity to indulge in a variety of delectable cuisines while also creating a dynamic and interactive atmosphere. A cheese platter station can satisfy the palate with a range of cheeses, fruits, and condiments, while a sushi bar brings a touch of elegance with fresh and artfully prepared sushi and sashimi.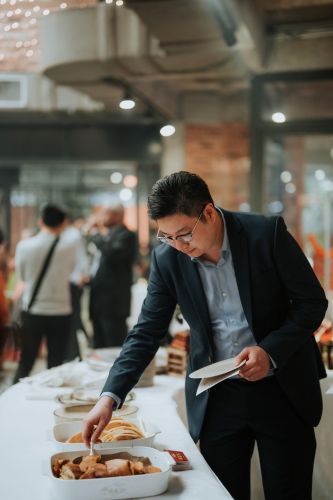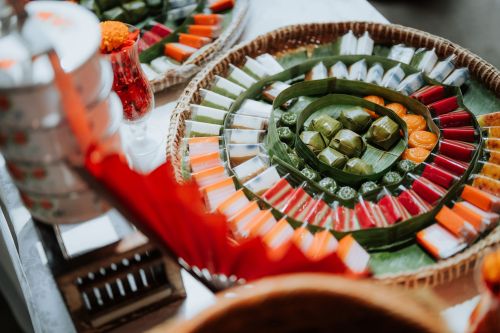 A lok lok truck offers a fun and customizable experience, allowing guests to skewer their favorite ingredients and immerse them in flavorful broths. Meanwhile, a Taco truck brings a burst of Mexican flair with savory tacos and a variety of toppings, while apam balik, a Malaysian dessert, adds a sweet and nostalgic touch. Lastly, the ice cream truck will not goes wrong to end the wedding. It's a culinary journey that enhances the overall wedding experience, leaving a lasting impression on everyone in attendance. We shall also coordinate the timing of your live food stations with your cocktail hour schedule. You will need to ensure that they are open when guests are ready to eat but not too early to spoil their appetite for the main meal.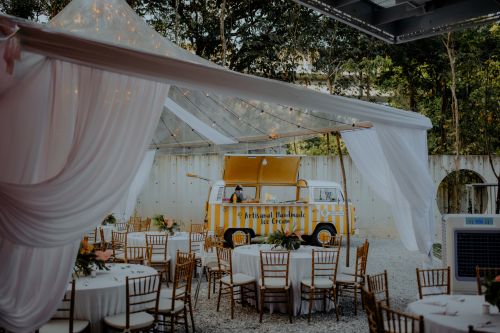 An extraordinary culinary experience which combines rich culture with delightful flavors can be considered in the wedding. A fine chinese traditional dragon beard candy, sugar calabash, pulled tea is a very unique live food station in a oriental/shanghai themed wedding. A dragon beard candy symbolic of good luck and prosperity. A pulled tea by a skilled tea master will let your guest enjoy the aromatic and soothing flavors of the freshly brewed tea while witnessing the captivating performance.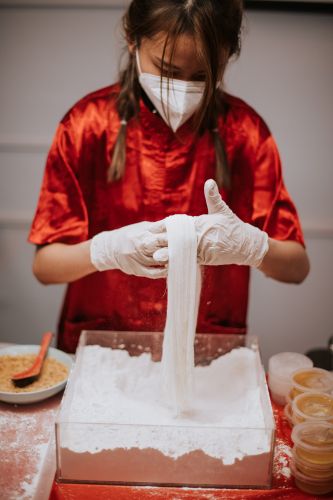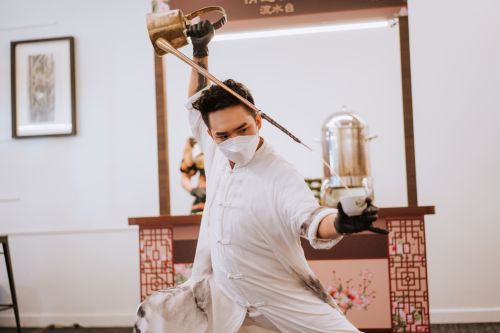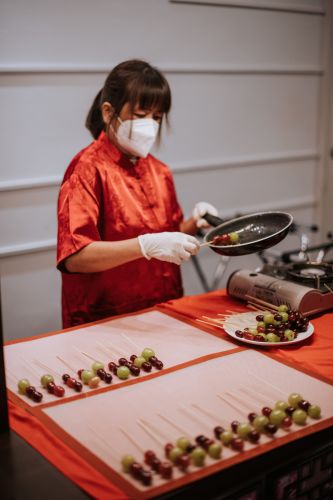 Having live drinks stations, such as a bar or a cocktail bar, into your wedding reception is an excellent and distinctive idea. These stations add a vibrant and interactive element to your celebration, allowing guests to indulge in a wide array of libations while creating a lively and social atmosphere. A well-stocked bar can cater to various preferences, offering a selection of wines, beers, and spirits, ensuring that every guest finds a drink to their liking. On the other hand, a cocktail bar introduces an element of mixology magic, where skilled bartenders craft signature cocktails or customize drinks based on guests' preferences. These live drinks stations not only quench thirst but also serve as a focal point for socializing, as guests gather around to chat, laugh, and toast to your special day. It's a delightful addition that elevates the overall experience, providing guests with an unforgettable and tailored beverage experience, making your wedding reception truly unique and memorable.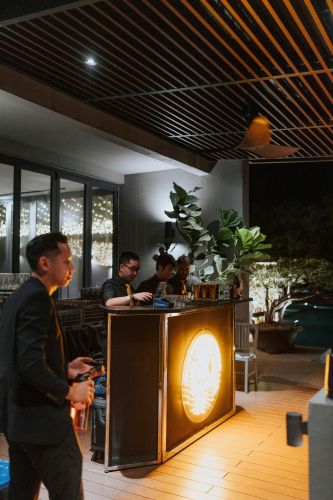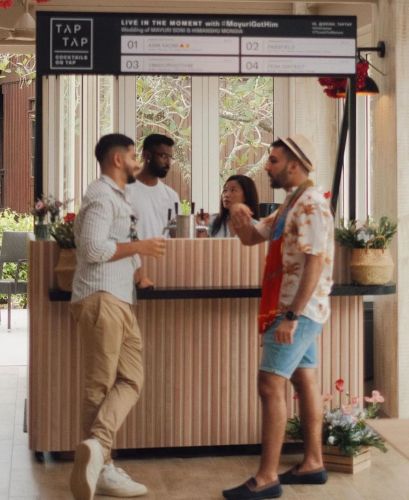 2. Cultural Performances
Incorporate cultural elements that reflect your backgrounds or interests. This could be traditional dances, music, or customs that engage and educate your guests. Cultural performances at a wedding reception add a unique and distinctive dimension to the celebration, making it a memorable and culturally rich experience. These performances often showcase traditions, music, dance, and customs that are deeply rooted in the couple's cultural heritage. They serve to celebrate and honor the couple's backgrounds, bringing together diverse cultures and creating a meaningful connection with the guests. Whether it's a traditional Chinese lion dance or an Indian classical dance performance, cultural performances infuse the reception with authenticity, history, and a sense of unity. These acts not only entertain but also educate and immerse guests in the couple's unique cultural tapestry, fostering a sense of inclusivity and appreciation for diversity. In essence, cultural performances enrich the wedding reception, transforming it into a cultural celebration that transcends boundaries and creates lasting memories for all in attendance.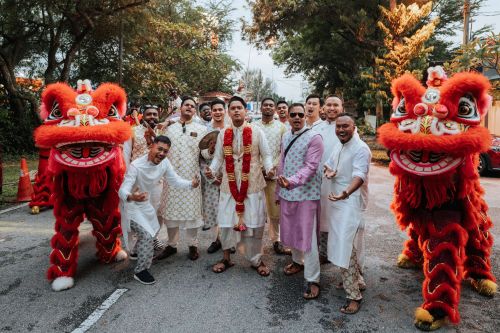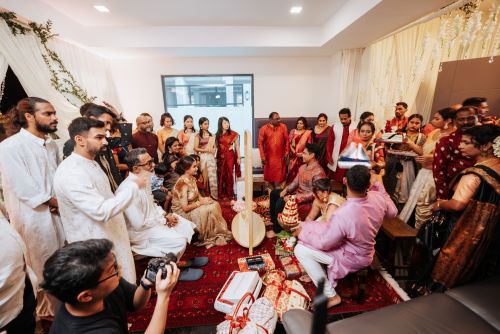 3. Live Entertainment
Having friends perform at a wedding reception is a heartfelt and unique idea that can infuse the celebration with a personal touch and deep emotional resonance. When close friends take the stage to sing, dance, play musical instruments, or perform any talent, it adds a genuine and intimate element to the event. It not only showcases the talents and love of the couple's friends but also underscores the strong bonds and shared history between the newlyweds and their social circle. This heartfelt gesture can bring tears of joy to the couple and the guests, creating a warm and unforgettable atmosphere. Whether it's a surprise performance or a planned act, having friends share their talents adds an extra layer of meaning to the wedding reception, turning it into a true celebration of love, friendship, and shared experiences.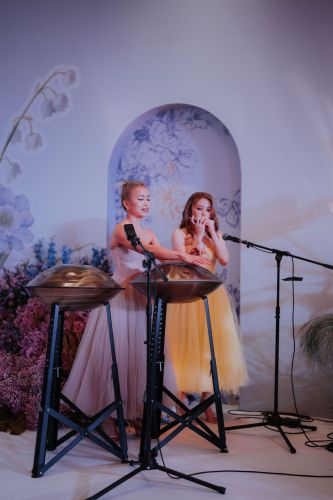 Besides, incorporating special entertainment acts like electric violin, harp performance, grand piano recitals, hiring a rap singer,a full orchestra band or choreograph a musical show into a wedding reception is a remarkable and memorable way to elevate the celebration to an extraordinary level. These unique performances add an element of sophistication, elegance, and personalization to the event. We are also able to create an ambiance that resonates with the couple's tastes and preferences. For instance, the ethereal melodies of a harp or the classical elegance of a grand piano can infuse the atmosphere with romance and charm, setting the stage for a truly enchanting evening; while a full orchestra band can provide a grand and immersive musical experience, making the wedding reception feel like a grand symphonic event. These special performances not only entertain but also serve as a reflection of the couple's unique love story and personalities.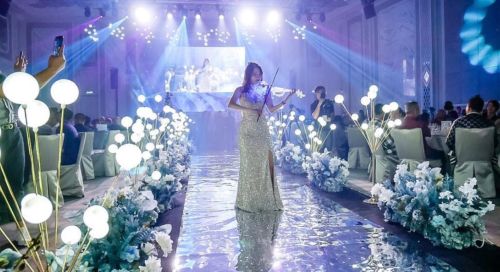 Photo source: Grace Violin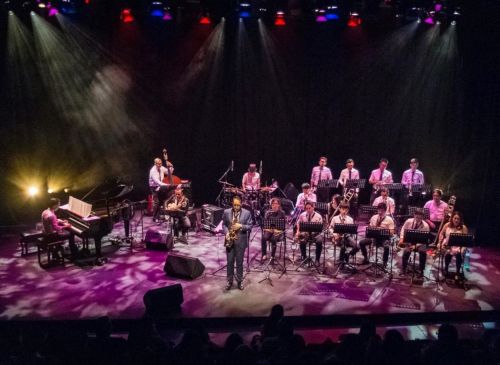 Photo source: Julian Orchestra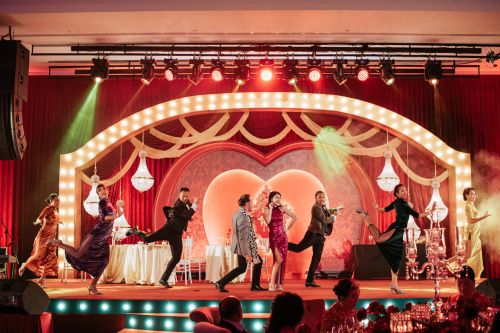 4. Activities for guests
Hosting live activities such as live painting for guests, a perfume bar DIY station, a tea leaf bar DIY, and personalized DIY wedding favors into a wedding reception is a wonderful way to engage and delight guests, making the celebration even more memorable. Live painting for guests adds an extra layer of artistry to the event. As the artist translates the love and joy of the occasion onto canvas, guests can watch the masterpiece unfold, creating a visual representation of the special day that they can admire for years to come. It also serves as a conversation starter, encouraging guests to share their interpretations of the painting and bond over their unique perspectives.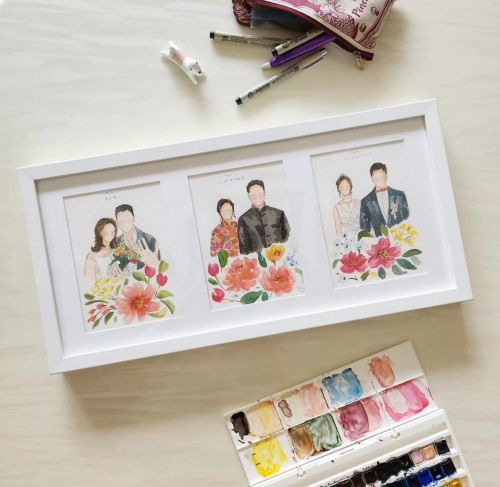 Photo source: art.sophiangstudio
A perfume bar DIY station is a sensory delight. It allows guests to explore their olfactory senses and become perfumers for a day. They can blend different scents to create a fragrance that resonates with their individual tastes and preferences. It's a personalized experience that connects the guests to the event on a deeper level, as they leave with a custom scent that will forever remind them of the wedding. As a journey of flavors and tradition, the tea leaf bar DIY takes guests to experience with various tea blends and ingredients. It's a delightful way for guests to take a break from the festivities, sip on a soothing cup of tea, and perhaps even discover a new favorite blend. This activity fosters a sense of relaxation and mindfulness, contributing to the overall atmosphere of calm and contentment. When it comes to wedding favors, DIY options enable couples to express their creativity and gratitude by crafting unique, heartfelt tokens that guests can cherish.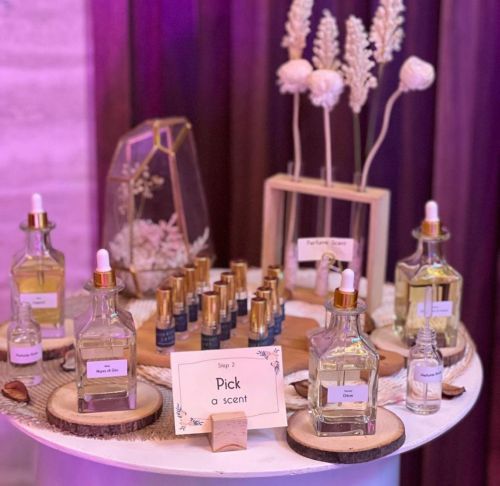 Photo source: Miyaki Perfume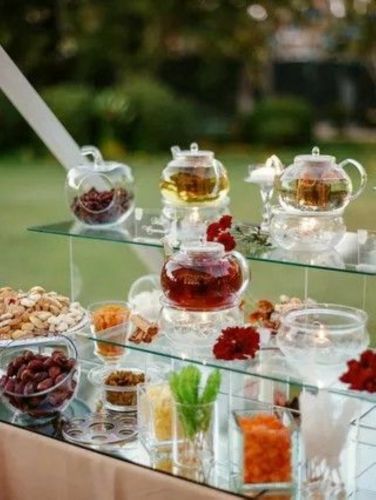 5. Games Booth for After Party
Introducing game booths at a wedding after party can be a unique and delightful way to entertain guests, it will be a fantastic way to keep the fun and excitement going well into the night by creating an atmosphere of fun and interaction that goes beyond expectation. These game booths can take various forms and cater to different tastes, ensuring that there's something for everyone to enjoy. From classic video games, carnival games like ring toss or balloon darts to more personalized options like These machines, which can include arcade games, pinball machines, beer pong tables, these activities add a playful and social dimension to the celebration.
Additionally, game booths can be customized to match the wedding theme, colors, or the couple's interests, making them a personalized and memorable part of the celebration. Moreover, for guests who may not be as inclined to dance or prefer more interactive entertainment, they can opt for a game booth too. It's a great way to ensure that everyone feels included and engaged throughout the reception.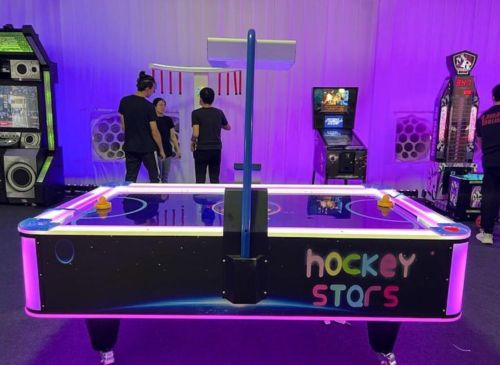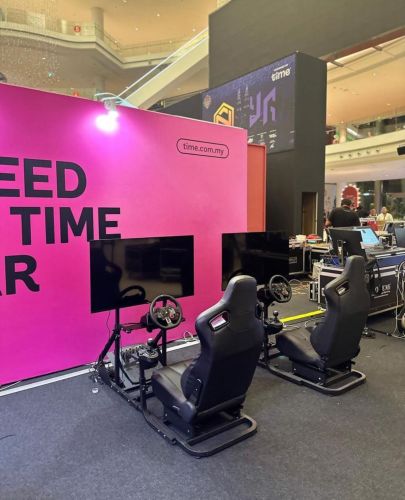 In short, incorporating a mix of common and unique entertainment activities will ensure that your wedding reception is a memorable and enjoyable experience for everyone. Tailor your choices to your personality as a couple and the overall theme of your wedding. With the right balance, your guests will be talking about your reception for years to come.
Ultimately, the desire for unique wedding reception ideas comes from a desire to make the wedding day a genuine reflection of the couple's love story and a celebration that resonates with them and their guests. It's an opportunity to infuse creativity, individuality, and personal meaning into a once-in-a-lifetime event.