The wedding day is a momentous occasion, not only for the bride but also for the groom. While much attention is often given to the bride's attire, it's equally important for the groom to look his best on this special day. The groom's outfit is a reflection of his personal style, and it plays a crucial role in creating a cohesive and harmonious aesthetic with the bride. The groom's outfit shall reflect his personal style, enhance his confidence, and complement the overall wedding aesthetic. In order to help the groom to navigate the wedding fashion, we have compiled a list of various aspects of the groom's outfit, from traditional choices to contemporary trends, to help inspire and guide grooms-to-be in selecting their perfect wedding day ensemble.
1. Classic Elegance of The Timeless Tuxedo
The tuxedo has long been synonymous with sophistication and elegance. A classic black or midnight blue tuxedo is a go-to choice for many grooms. It exudes a timeless charm and complements the bride's wedding gown effortlessly. A well-fitted tuxedo paired with a crisp white shirt, a black bowtie, and polished black shoes creates a refined and polished look, perfect for formal weddings and evening affairs.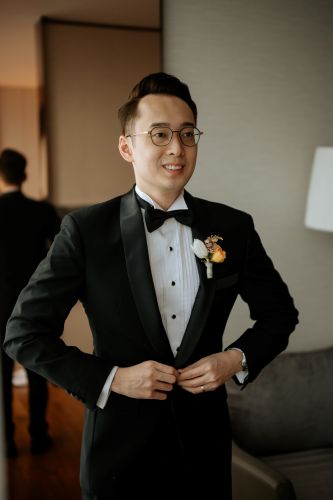 2. Modern Suit Options
For grooms who prefer a more contemporary look, suits offer a variety of possibilities. A well-tailored suit can be customized to match the wedding theme, color palette, and the groom's personal style. Whether it's a sleek charcoal gray, a dashing navy blue, or a trendy light beige suit, the options are endless. Experimenting with different textures, patterns, and accessories to add a touch of personality and uniqueness to the ensemble.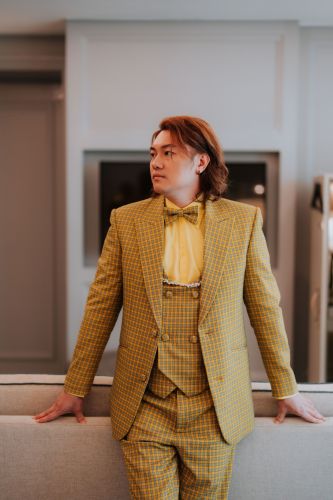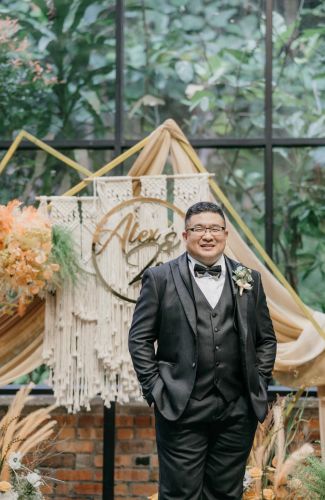 3. Embracing Tradition
In weddings that celebrate cultural heritage, grooms often opt for traditional ethnic attire. From the richly embroidered sherwani of Indian weddings to the sharp-cut of Tang suit, traditional outfits offer a chance to showcase cultural identity. These garments are often intricately detailed, featuring vibrant colors, exquisite craftsmanship, and accessories. Embracing tradition can add a touch of regality and significance to the groom's look.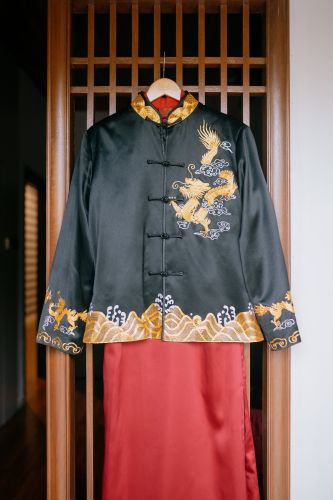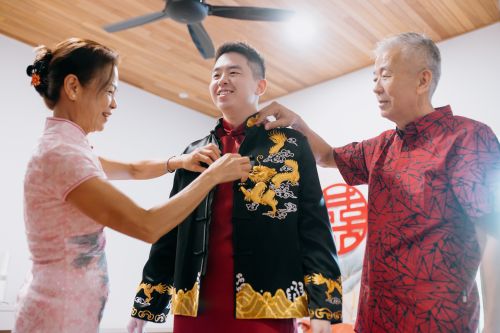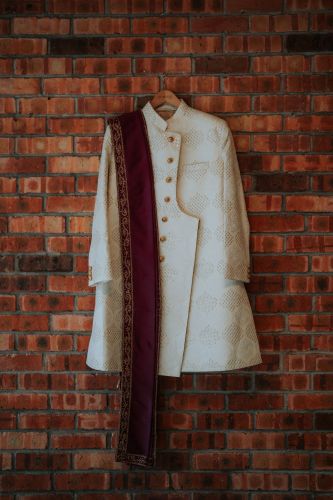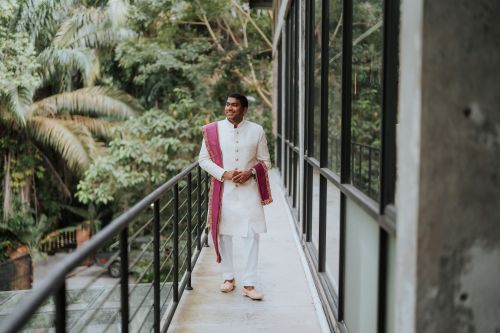 4. Adding Personal Flair with Accessories and Details
It's the finer details that truly elevate the groom's outfit from ordinary to extraordinary. Accessories play a crucial role in adding personal flair and individuality. Consider incorporating accessories like tie bars, pocket watches, or statement socks to inject a touch of personality into the ensemble. The choice of neckwear, whether it's a classic tie, a bowtie, can further enhance the overall aesthetic. Additionally, thoughtful choices in footwear, such as polished leather shoes or trendy suede loafers, can complete the look with finesse.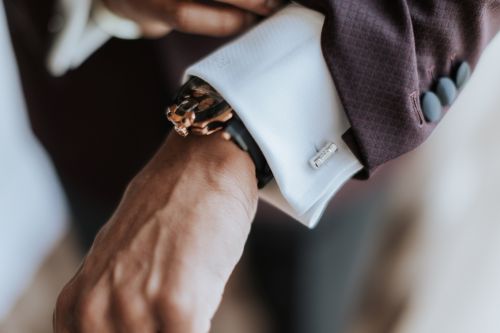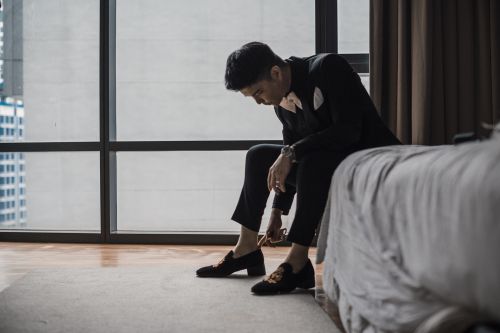 5. Harmonizing with the Wedding Theme
The groom's outfit should be in harmony with the overall wedding theme and color scheme. Coordinating with the bride's attire and the wedding party's outfits ensures a cohesive and visually appealing aesthetic. Consider incorporating elements like matching colors, complementary patterns, or consistent textures to achieve a cohesive look. This attention to detail showcases the couple's unity and enhances the overall visual appeal of the wedding.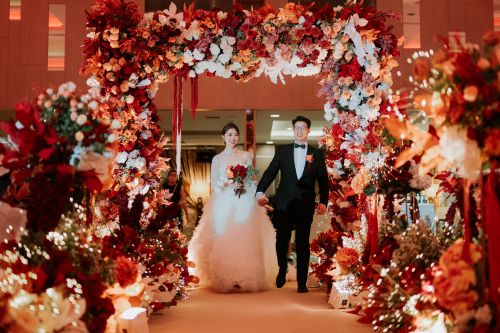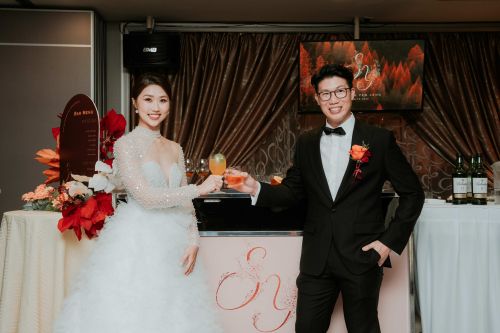 Initiating the process of planning your wedding day outfit should ideally begin two to three months prior to the big day. It's essential to consider your sources of inspiration and determine whether you feel confident in making outfit choices independently or if you would benefit from the guidance of a style advisor or conducting some research on your own. When devising your outfit timeline, it is crucial to factor in the time required for crafting and potential alterations, unless you opt for a rental option.
If you intend to have your suit or tuxedo custom-made, especially from a popular establishment or during the peak wedding season, it is wise to anticipate potential scheduling challenges. Keeping your options open and initiating the process early on will enable you to secure an appointment that aligns with your preferences. Rest assured, starting early will make the experience of selecting the perfect look and fit an enjoyable one.