Organic Themed
Organic themed wedding is a fabulous choice. An organic themed event will naturally be filled with the nature tone and earth tone colour and biodegradable products. A couple who is nature lover and love saving the planet can opt to go with this theme. In this theme, we can play around with pampas grass, leaf and dried flowers, it is great for the décor and overall organic theme. This new trend introduces the long feathery plumes of the pampas grass, we can just a place few stalks in a vase used as a center or corner pieces. It can change your entire decoration and introduce a lovely and yet calm texture. While this theme might not sound very fancy but it is really interesting to plan.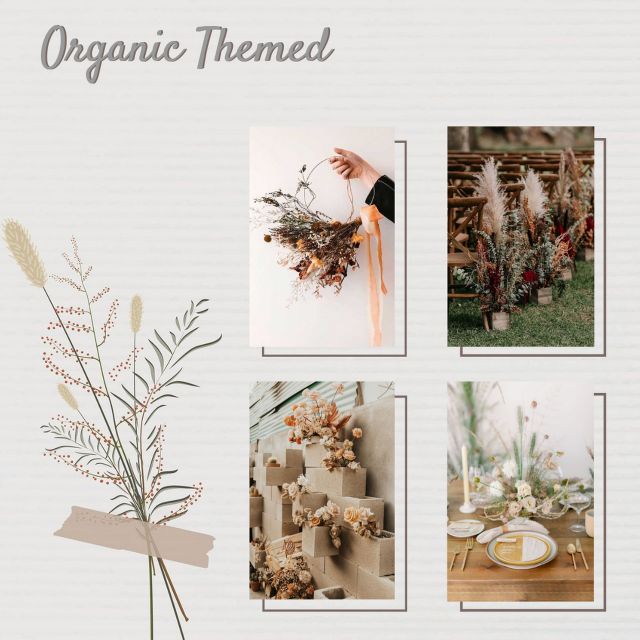 Minimalist Rustic
The idea of minimalist weddings is to put together the simple elements and create one cohesive and modern theme without going over the top. The rustic themed wedding is generated from the natural colour palette with natural shapes and textures like greenery, wood, lace, country flowers, grasses and foliage. These ideas combined together it forms a kind of beauty and can be very romantic. We called it minimalist rustic. If you are looking something simple and sweet, this could be the theme that you are looking for your wedding.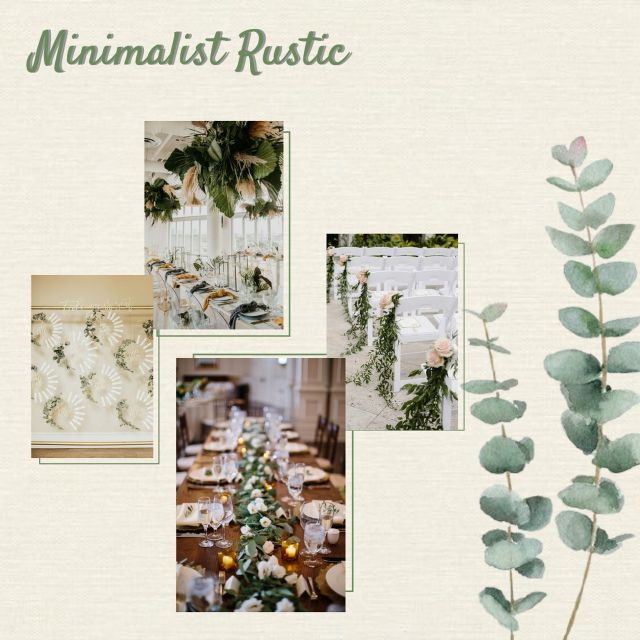 Neon Themed
In the latest trend of wedding, we can see couple started incorporating neon elements in the wedding. Neon is a fashion trend because it is futuristic, youthful, and certainly bright and cheerful. You can imagine when your dessert, decoration, florals and outfit are all neon. It is a way to impress and jaw dropping to your guests because neon colours are very eye-popping. Of course, neon is not just a sign hanging anywhere of your wedding but bright colours acrylic are mostly used in neon themed wedding too. After the wedding, couples can keep them and reuse them as decoration in the house or other events in future.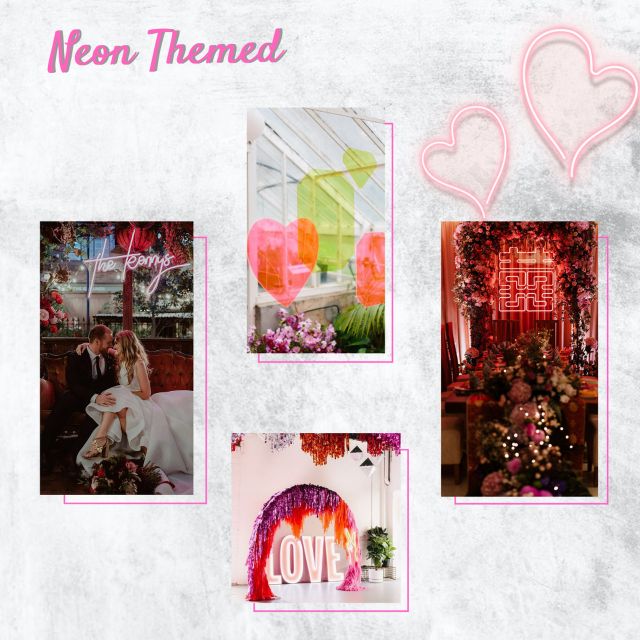 Balloons Themed
Balloons are like a symbol of joy and happiness to any celebration. It is the latest wedding trends for indoor and outdoor venues due to balloons are versatile, come with different colour, sizes or shapes. With different balloon shapes, you can carry out different themes and mood. It is like a fun point to your wedding where your guests can bring back the balloon when the events end, it is more like sharing your happiness to them too.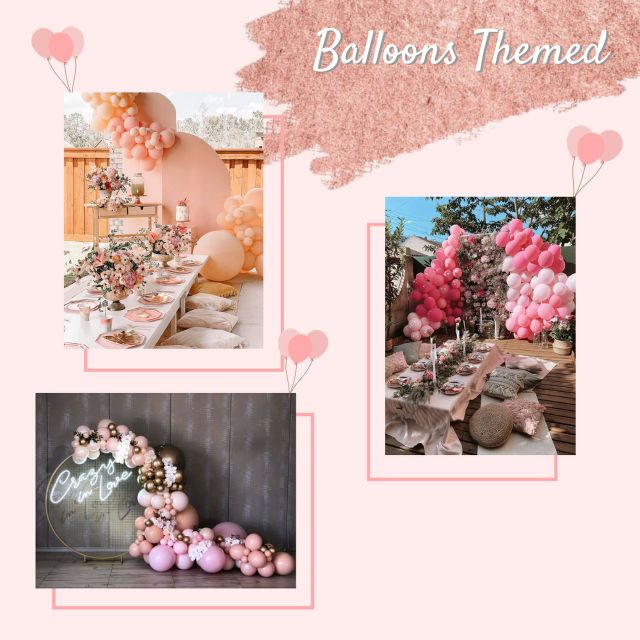 Creative Artsy
This theme is highly recommended to couples that have passion in arts and creativity. It can be a step away from the traditional and classic decoration we usually see in weddings. You may decorate your venue with paintings and sculptures. With this theme, you can be as creative as you can by transforming the venue to art gallery, museum, artist exhibition according to your art style. You most likely will not go wrong with this theme by inputting your creativity.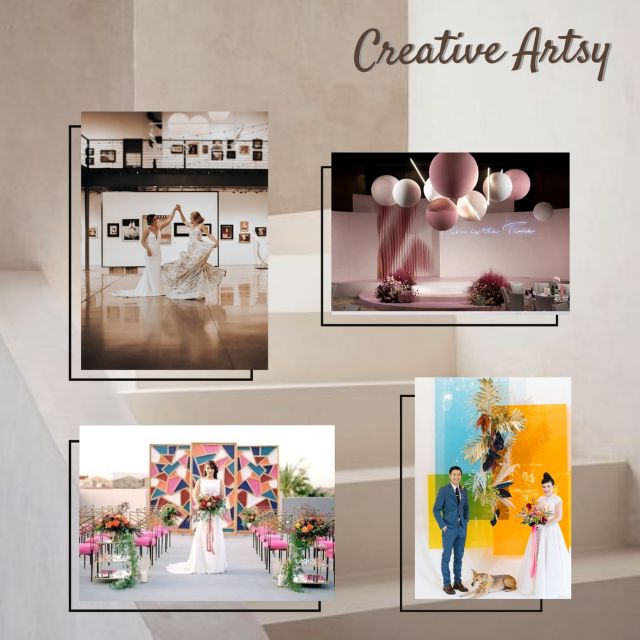 Throwback Brights
This unique theme is all about colours in 90's, the throwback bright colours. If you're searching for something special and fun you may pick this as your wedding theme. Colours that you can consider to use are fuchsia, yellow, teal, bright red, and cobalt. You can expect to see these new wedding colours coming back in 2021. The idea is to combine all the bright colours instead of using just one of them. So that it will be eye-catching, bold and popping. Couples that getting married nowadays are around the age of late 20s and early 30s, so it will be fun and get the millennials' attention. You can insert the abstract shapes, details like lines, triangles and polka-dots in the wedding decoration too!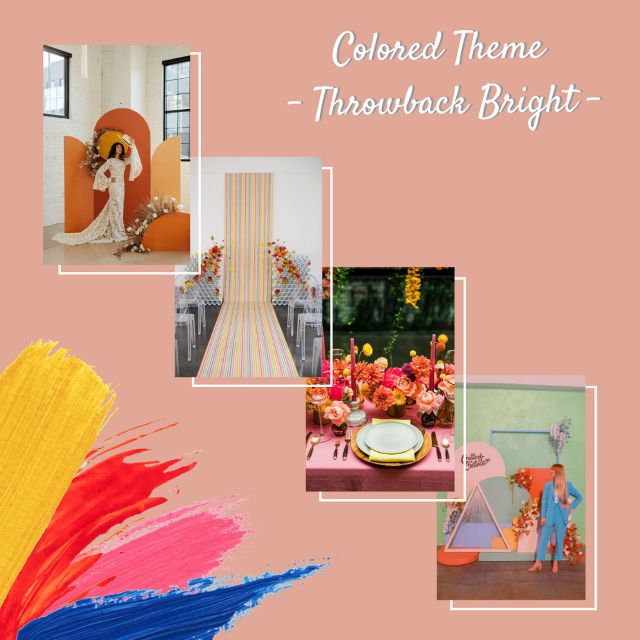 *Photos source from internet