Dear all pretty brides and charming grooms, always get nervous on your very special day until you are not sure what to be done? This is why wedding day flow is crucial, if you scheduled too much to happen on your wedding day, you might be in chaos; if you arrange too much time for each event on your wedding day, it might lead to atmospheric awkward or boredom for your wedding guests. Therefore, understanding you wedding day timeline is an important thing for you, brides and grooms, to get ready for your special once in a lifetime day. Get yourselves mentally, physically and emotionally well-prepared now by going through with me the rough flow idea of your wedding day.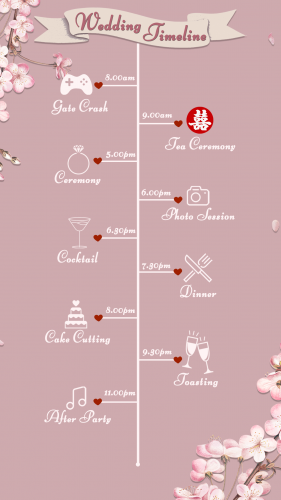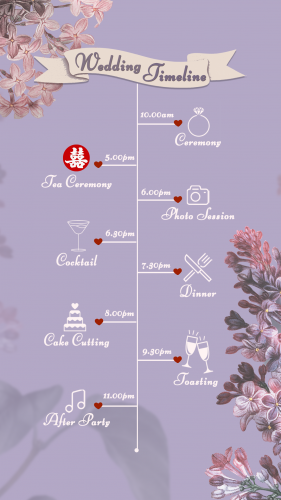 Firstly, what you have to take note on the wedding day timeline is the time for you to wake up on your wedding day. This is very important as it is the start of the day which groom would not want to be late to fetch your bride and bride would not want to be not yet ready in your pretty wedding dress and make up when the groom is just in front of your room door. So, what time you should wake up for your day?
Dear brides, remember that if you want a beautiful look on your wedding day, you will need to arrange an around two and half hour to three-hour makeup and hairdo slot for your makeup artists after you wake up and also get yourself refreshed.
Dear grooms, your preparation will be less time consuming compared to your brides. Therefore, just make sure you wake up one hour or to be safe one and a half hour to get yourselves nicely dressed and also to have your breakfast before you and your groomsmen depart to fetch your bride.
Both bride and groom, please be aware of keeping yourselves in the best condition for your wedding day. So, not too much of alcohol the night before and also sleeps well to avoid getting yourselves hangover or to appear in bloated faces on your wedding day, you won't be happy to look bad in your wedding photos for your lifetime.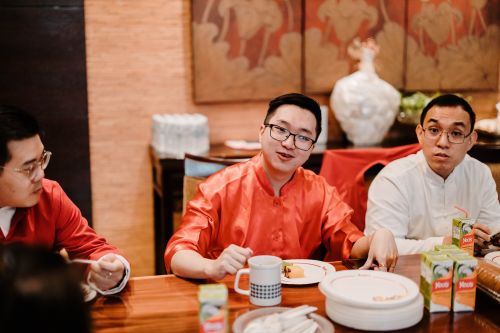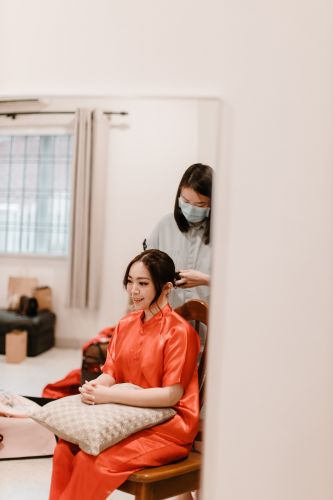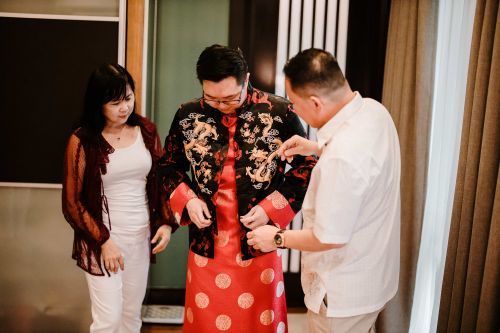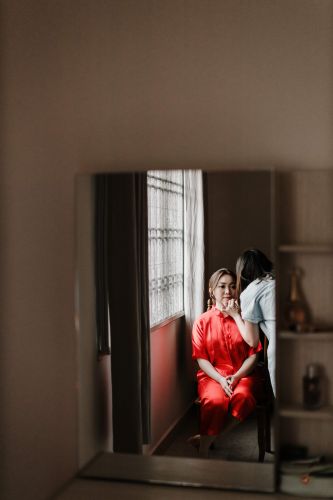 Next timing which you will be needed to put into a good time management planning will be the gate-crashing session. Gate-crashing session is an interesting and fun time for most Chinese morning tea ceremony session which bride and bridesmaid would not want to miss out. This is the time when games can be planned out for the groom and groomsmen to play before seeing the bride in her room.
This is a great time for wedding photographers and videographers hired to take nice and interesting shots for your wedding day but in the same time will be the session where good time management and control should be practiced. Normally, three to four games will be advised to arrange into your wedding itinerary by professional wedding planners. Around 10 minutes will be distributed for each game hold out which this gate-crashing session will be consuming a total of around 40 minutes in the morning tea ceremony session. Bride and bridesmaid should be aware of the time controlling for this session as you would not want your groom and the groomsmen to be in sweaty, tired and awkward condition for the upcoming sessions of your wedding, you also would not want to be off the auspicious timing for your wedding ceremony and affect all the coming up sessions to be in a rush or out of control.
This will be messed up and will also ruined everyone's mood for this very special day. Therefore, if you are having professional wedding planners for your wedding, they will be the one who will remind your bridesmaid on each game timing to ensure a smooth flow for your wedding day.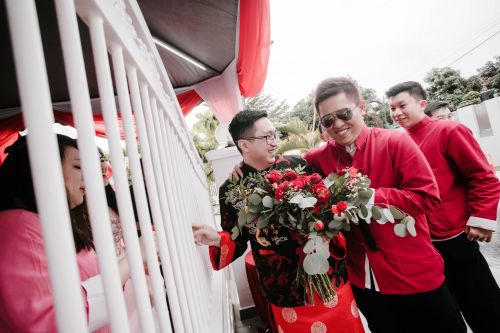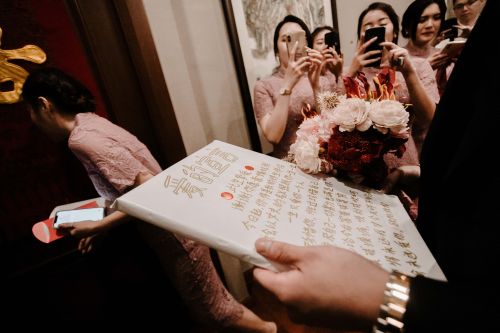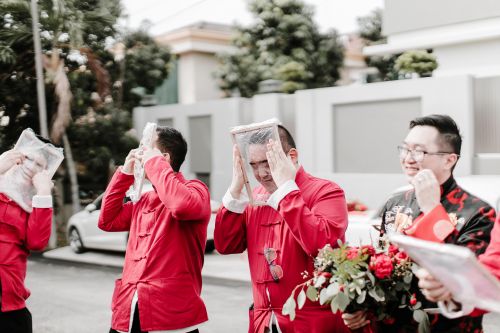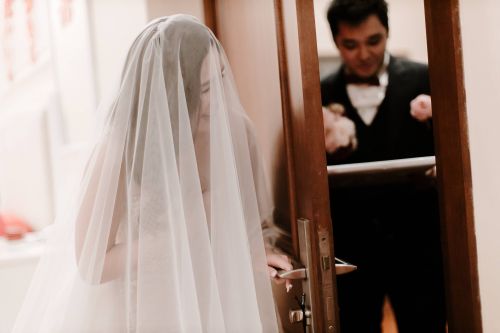 Another important session that needs to be planned properly in timing will be the tea ceremony session. Bride and groom will first need to confirm on the number of the guests or relatives who are needed to be involved in the tea ceremony session from both families.
Then from the number of people who will be involving, professional wedding planners can help in distributing the time needed for the tea ceremony so that the whole wedding day flow will be smooth without being too rush and over-tiring. Do not forget that some time is needed to be allocated for a family members photography session in order to ensure each and every memorable moment to be captured for your wedding day.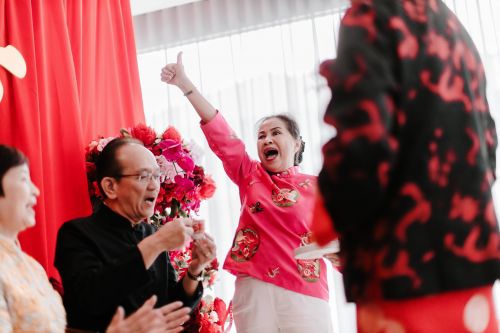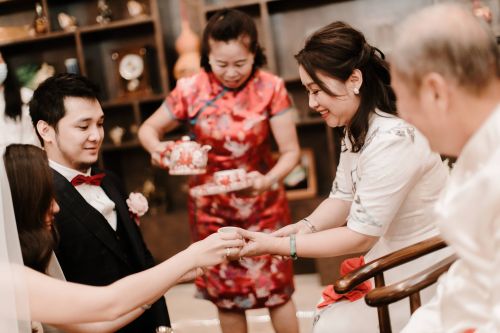 Furthermore, travelling time is also a crucial thing to be arranged into your wedding day timeline. Travelling time can be indicated as the time you will be using to travel from groom's house to bride's house, bride's house back to groom's house, groom's house to wedding reception hotel or even from groom's house to wedding venue space rented for your wedding day.
The travelling distances can be long or even short, but still you will need to allocate travelling time for all the travelling on your wedding day as this will affects your wedding day events arrangement.
How to estimate and allocate the travelling time which you will be needed for your wedding day? Firstly, you have to take into consideration on the day and time of your wedding day, whether your wedding day is on a weekday or weekend. Besides, the travelling time whether will be on a peak moment of the day which there will be a lot of transportation moving on the road or not also will be needed to put into consideration. To allocate the travelling time into your wedding day timeline, you can check out the estimated travelling time using Google Maps or Waze, then add on some buffering time around 10-15 minutes into the estimated time in case there is anything happened which is out of your expectation.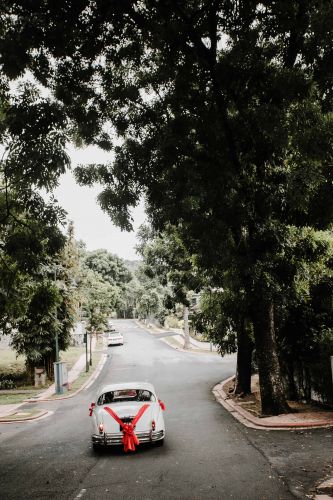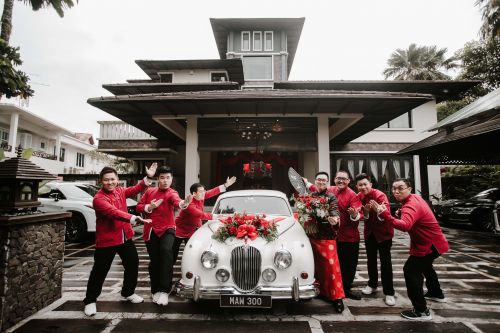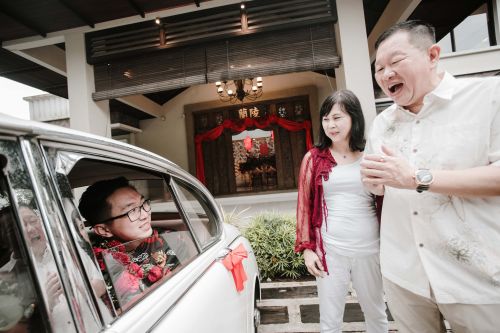 Besides, religious and non-religious ceremony sessions are also the events which need to be taken into consideration when knowing your wedding day flow. Some wedding couples might be having religious ceremony such as church ceremony or temple ceremony to be held instead of Chinese tea ceremony in the wedding day morning session.
Therefore, you should take note on the time needed for the ceremony to do some adjustments into your wedding day timeline to ensure the overall flow is smooth and nice to go.
If you are having a religious ceremony session in the morning, then your non-religious ceremony such as the ROM ceremony, will usually be arranged in the evening session after your second make up and attire change and before your wedding reception. Normally, the ROM ceremony timing will be quite near to the wedding reception timing and the same after the ROM ceremony, bride and groom will also be arranged to have a photography session with all the guests who attended the ceremony.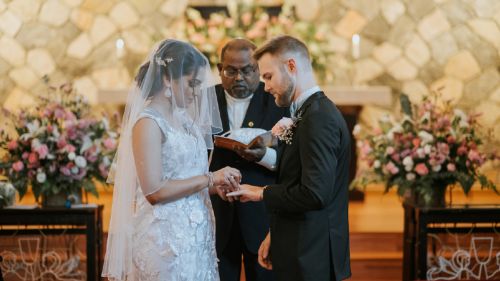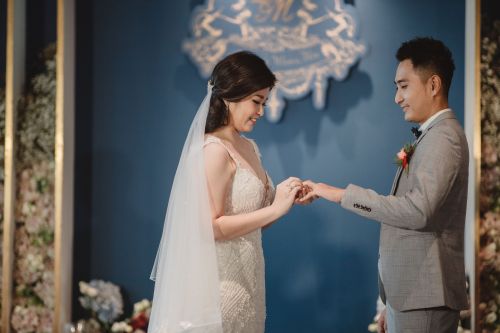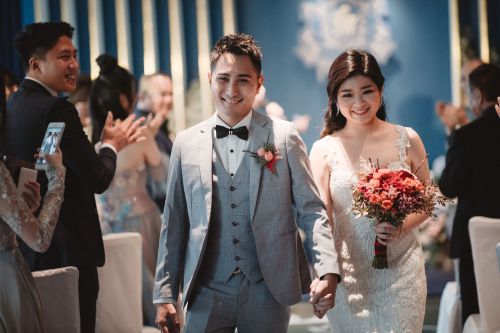 After the ceremony, the newlyweds will be needed to get themselves ready for some makeup and hairdo touch up for the next session which is the cocktail session. Cocktail session will be another session which you will need to take note of whether the bride and groom would like to attend this session to greet the guests with the parents or not. If you would like to attend this session, the makeup and hairdo touch up session have to be shorter having the ceremony before this, or else you can just arrange your parents to help in greeting your guests so that both of the bride and groom can get some rest while touching up to attend the next session of the wedding day which is the wedding reception.
Lastly, will be the last session of your entire wedding day timeline which is the wedding reception. This is when your wedding guests all will be awaiting your grand entrance for the session.
Dear all brides and grooms, during the whole session of the wedding reception, you will be arranged with a string of continuous events. You will be having march in, cake cutting, champagne popping, toasting session, speech session, first dance session, table to table toasting, etc. These events flow normally will be slotted into the reception timeline based on your reception menu serving time.
The wedding reception to be advised to start at the latest 8pm. You should also arrange the events of march in, cake cutting, champagne popping, toasting session, speech session and first dance session should be slotted into the timeline after each dish is served and after the next dish is to be served, this is to make sure that your wedding guests are well-focused on your time to shine during the wedding reception.
The next thing for you to make sure of is the end time of your wedding reception. Usually wedding spaces are allowed to be used until the latest 12am, if there is any extra activity such as after party session after your wedding reception, you are advised to get another space to continue the session. Remember to feed yourselves some food during your touch up session and before the wedding reception starts as you might not be having enough time to savour your wedding cuisine served during the whole wedding reception session.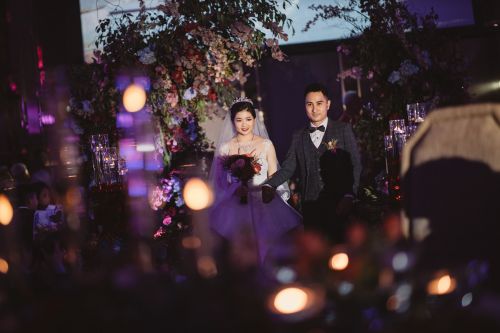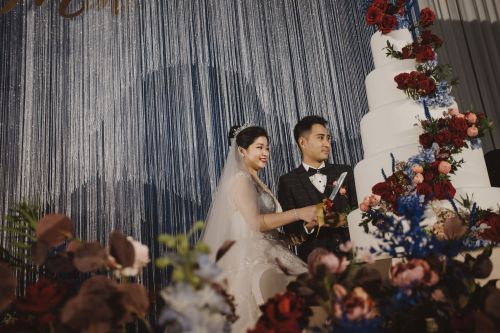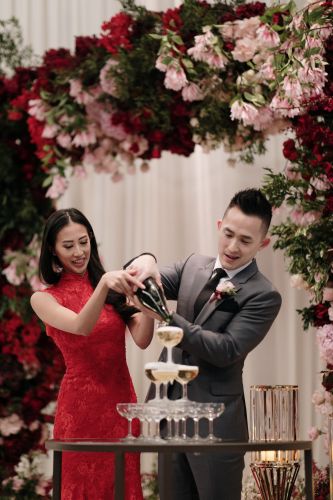 Your wedding day timeline will be ended with your wedding reception, it can also be ended with another extra session which is the after party session based on your arrangement for your wedding day which will be starting at 11pm and will be ended by 3am.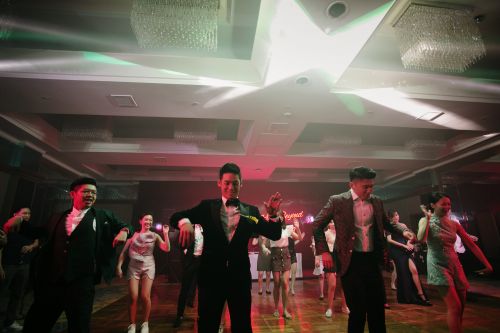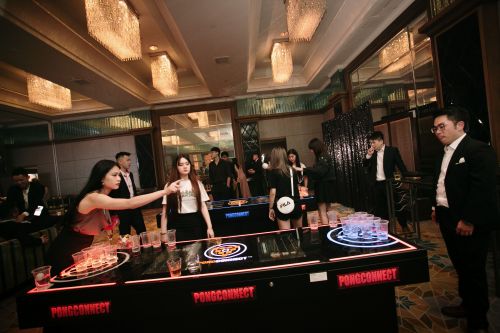 After going through the flow of the wedding day timeline, I hope that all brides and grooms have a rough picture of how your wedding day will be. In order to have a smooth wedding day of yours, get a well rest before your wedding day, believe me that you will be needing that much energy for your wedding day. Happy marriage to all brides and grooms-to-be.