The wedding invitation card etiquette rules aren't complicated as you think. It is simple and straightforward. It is up to you whether you want to keep the wording classic and traditional or creative and whimsical. No matter how, there are still basic elements that you should include in your wedding invitation card.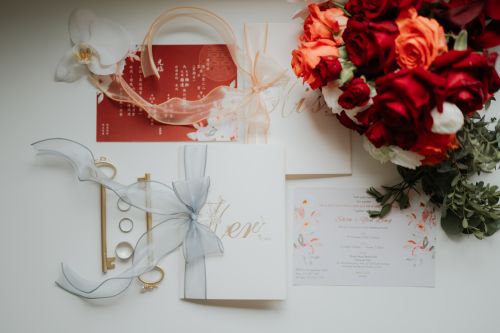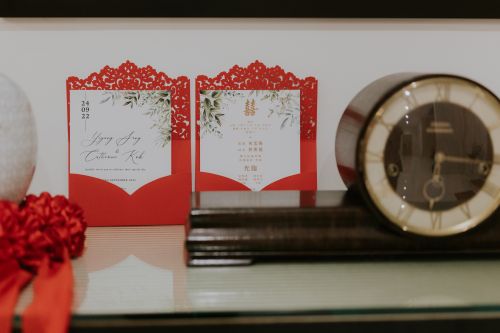 The Host
The most essential info of the invitation is the name of the host of the wedding. This is the line that denotes who is hosting and are named at the top of the invitation. It can be the parents of the bride or groom or both sets of parents or just the couple. If it's a collaborative affair hosted and paid for by the couple and both sets of parents, you can also use "Together with their parents, (Groom name) and (Bride name) invite you…."
The Request
You will then need to add a line asking your guest to attend your wedding. There are many ways to ask for the pleasure of your guests' company. Traditional call for a wedding may use wording such as "request the honour of your presence", and the modern and civil may use a more casual language like "join us to celebrate…".
The Name of The Couple
If the couple names haven't been included in the host line, they should still take center stage a few lines down. It is common to include full names of the couple for a more traditional invitations whilst for a more modern wedding invitation, the couple can feature only their first names or their nicknames.
The Date and The Time
Stick to the standard time and date formatting for a traditional feel or be a little more creative by spelling out the date and time in full, such as "Tenth of February, Two Thousand and Twenty-Three", "Half after five o'clock". The use of year and a.m. or p.m. is optional at your choice.
The Location
The street address of the venue is not usually needed unless omitting it would lead to confusion. The city and state should be written out in full in either case. You may also add the full address on your invitation cards (at your preference) to avoid any confusion for your guests from other state or from oversea.
Reception Information
Some of the couple may have ceremony and reception at the same day but not inviting all the guests to the ceremony. Hence, you can create evening wedding invitations for those who only attending to the evening reception. If the ceremony and reception of the wedding is at the same place and you wish to invite all your guest to join you at the ceremony, you may simply add "and afterwards at the reception" or "followed by the reception". If your reception is held at a different venue then you will need to add the location of the new venue on a separate line.
RSVP Details
Lastly, you will need to include the instruction on how and when to RSVP at the bottom of your invitation. You may ask the guests to RSVP through phone call, message, email or via website (this is where you use an e-invitation). You should also include a cut-off date for the RSVP to ensure you have enough time for your post-wedding related task with the confirm guest list.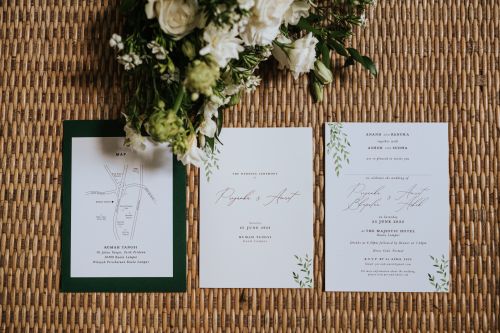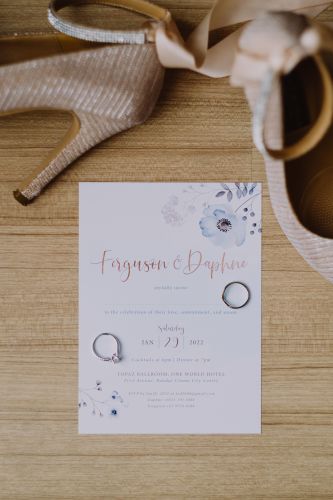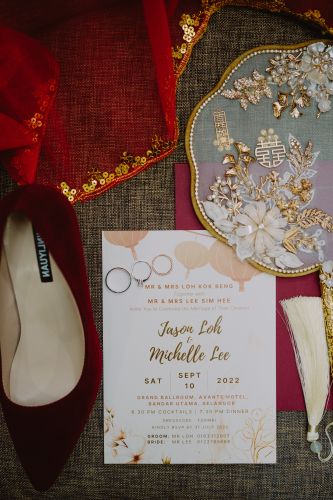 Invitation card in paper is a traditional way of sending invitation to your friends and family and the above content is the basic elements that you should contain in your invitation card. What about a non-traditional way of sending invite to your guests? Couples are aiming for more eco-friendly wedding choices by sending invite via electronic mode. Contents of the e-invitation is just the same as the traditional invitation card! However, it doesn't limit you to write your message in only one
paper. All the basic content that should include in the traditional invitation card has already fill the space of one invitation card paper which the couple wouldn't have more spaces to write some warm message for their guests. Here are some of the wedding invitation messages that you can consider to write in your invitation to let your guests share the happiness of your big day!
"We expect your blessing more than anything on our wedding day. Let us all enjoy the holy occasion with your sweet presence."
"Your presence at my wedding means a lot to all of us. Please let us have the honor to host you on this beautiful celebration of love and loyalty!"
"You are the most important person without whom this holy celebration is incomplete. We are looking forward to having your company on (date)"
"Before we start our journey of a new life, we want to make sure that your blessings are always with us. Please come join us at our wedding!"
"You have always been the perfect guardian for us. Your presence is more than expected during this holy occasion of our lives."
"You have always been a big part of our lives. Let us share the big day as we unite our souls in a bond of love and devotion. You are cordially invited!"
"Your presence will only extend the joy and the smiles on our face. We can't afford to miss the pleasure of your presence on (date)."
"Our marriage marks the beginning of a new chapter in our lives. Only with the participation of our beloved friends would this event become complete. Don't miss out on mouth-watering dishes and couple of dances."
"Dear bestie, can you believe it? I'm actually getting married to the love of my life. Be sure to be present!"
"My favorite man/friend, you are highly encouraged to attend my wholesome marriage. Can't wait to introduce you to my spouse."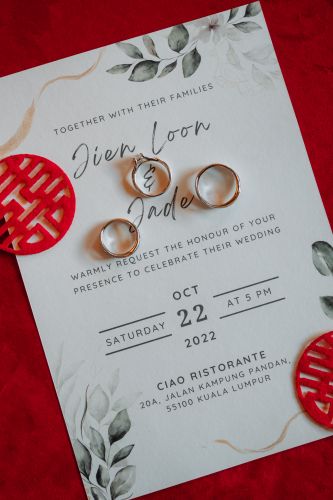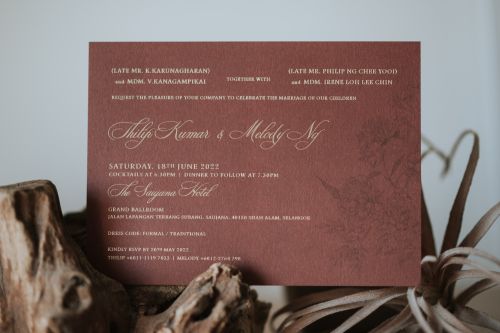 Things to nudge your guests before wedding day / Wedding reminders for your guests
A reminder message not only reaffirms the invitation but also to makes your guests feel more wanted! Furthermore, most of the invitation is sent out few months ago, so it's always good to send out a reminder to the guests. Let's take a look into few of the important reminder messages to send out to guest when it come near to the date.
RSVP
RSVP date is printed clearly on the wedding invitation, but don't be surprised if your RSVP-by date rolls by with many of the guests failing to respond. RSVP reminder is important for your accurate final headcount. These replies play a major role when you need to make order for the caterer, creating your seating chart, plan meals and more. That's why it's always a good idea to send a note to everyone on your guest list reminding them of the RSVP deadline that you have mentioned in the invitation card before the due date.
Hotel Block
If you're hosting a destination wedding or your friends and relatives are coming from other states, reminder about hotel room block deadlines is important. Room blocks allows you to set aside hotel rooms just for your guests, often at a discounted rate and at a certain date. Hence, it's important to book the rooms before the time-lapse! There's also a possibility that the hotel rooms will be sold out if you're getting marries on a peak season.
Transportation Arrangement
Sending reminder message or information to your guests relating to the transportation arrangement is necessary. Whether it's simply directions to the venue and parking information or the specifics about the shuttle arrangement that you provided for your guests from other state. You will have no time to arrange and take care of these provided service for your guests on your actual day. So, it's important to arrange and to let your guests know the time and where to wait in advance on the actual day.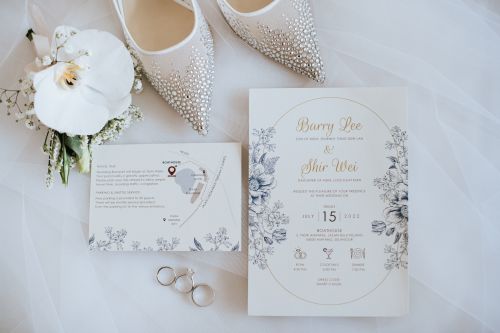 Wedding Hashtag
If you're planning to have a wedding hashtag, you should let everyone know well before the big day. That way, everyone can use the hashtag during all the events leading up to the big day, from the engagement party to the dinner reception.
Dress Code
Reminding your guests on the dress code if you have a specific dress code for your big day. No one wants to be the one guest who is way overdressed or underdressed. Try to keep the description clear for your guests understanding. This dress code can also be included in your wedding invitation cards if you wish to have a specific dress code.